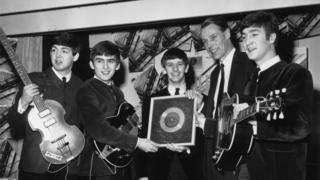 Paul McCartney has paid tribute to The Beatles producer George Martin saying he had earned the title of "fifth Beatle". But where did this phrase come from and who else has it been applied to?
John, Paul, George and Ringo. The Beatles were a tight-knit gang of four – christened the Fab Four in 1963 after the press picked up the term from the sleeve notes for their second album.
The term "fifth Beatle" was first utilized a year later when they traversed the Atlantic in an attempt to crack America.
"It's part of the mythology that the American DJ Murray the K was the first to name himself the 'fifth Beatle' on air, " tells Beatles expert Stephanie Fremaux, from Birmingham City University. "He probably did that as he was heavily promoting their first US visit in 1964 and playing their music on the radio."