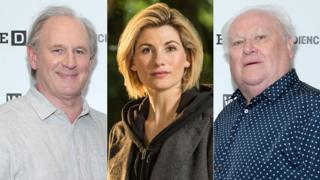 Two ex-Time Lords have had a war of words over Jodie Whittaker being cast as TV's first female Doctor.
Peter Davison, who played the Doctor from 1981 to 1984, said he "liked the idea" of a male Doctor and that he felt "a bit sad" the character might no longer be "a role model for boys".
His comments were promptly dubbed "rubbish" by his successor Colin Baker.
"You don't have to be of a gender to be a role model, " said the actor, who portrayed the Doctor from 1984 to 1986.
"Can't you be a role model as people? "