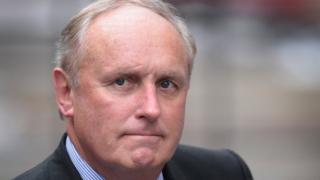 Daily Mail editor Paul Dacre is stepping down after more than a one-quarter of a century in the role.
He will become chairman of Associated Newspapers, which is owned by the company DMGT, and its editor-in-chief.
Associated also owns the Mail on Sunday, Metro and the Mail Online, the world's most popular English language newspaper website.
Mr Dacre, the Evening Standard editor before joining the Mail, starts his new job before turning 70 in November.
Lord Rothermere, chairman of DMGT, paid tribute to Mr Dacre for his "brilliant stewardship" of the Mail and other titles in the group over three decades.
"Paul is, quite simply, the greatest Fleet Street editor of his generation, " he said.
Mr Dacre said here proprietor had given him "the freedom to edit without interference and the backing to assemble Fleet Street's greatest team of journalists".
His replacement is yet to be announced but competitors include Sun editor Tony Gallagher – tip-off by Press Gazette editor Dominic Ponsford – and Geordie Greig, the Mail on Sunday editor.
Cameron 'tried to get Mail editor sacked'
Daily Mail editor 'never approved hacking'
Paul Dacre on Desert Island Discs in 2004
Under Mr Dacre's editorship the Daily Mail has taken a staunchly pro-Brexit line. Last November the paper controversially attacked three senior judges after they ruled that Brexit could not be triggered without a Westminster vote in a front-page story headlined "Enemies of the people".
Last year the BBC reported that then Prime Minister David Cameron tried to persuade Mr Dacre to "cut him some slack" ahead of the EU referendum vote.
After failing to do so Mr Cameron then asked Lord Rothermere to sack the pro-Brexit editor, a source told Newsnight.
The Mail editor was said to be "incandescent" and his resolve to campaign for Brexit "stiffened".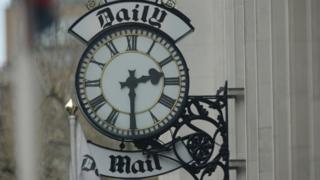 Kevin Maguire, associate editor of the Daily Mirror, described Mr Dacre as the "Godfather of Fleet Street, an immensely powerful editor of the Daily Mail. Catastrophic Brexit was his lash hurrah".
Tim Shipman, political editor of the Sunday Times and a former Mail journalist, said: "There isn't a prime minister over the last 30 years who hasn't been looking over their shoulder wondering what Paul Dacre thought of them. A lot of them didn't like that very much and there are members of the public who don't like that situation either."

Analysis
By Amol Rajan, BBC News media editor
Sub-editors at the Mail might take against the cliche, but Paul Dacre was the last of his kind.
When he entered the profession in the early 1970 s, British newspapers had a degree of influence that they do not have now.
To a greater extent than has generally been recognised, his experience of Washington and America in the 1970 s was formative.
David English decided early on that Dacre would be his successor at the Mail, and had the charm to tempt him. Rupert Murdoch wanted him to be editor of The Times, but Dacre declined.
At the Mail, he both channelled and shaped the conservatism of middle class Britain beyond London.

Jane Martinson, a journalism prof at City, University of London and former Guardian media editor, said: "Paul Dacre has wielded a power over politics and society in a way that no other journalist is likely to match in the coming generation. He steps down as the printed press enjoys its last hurrah in influencing or reflecting( depending on your point of view) public opinion over the EU and Brexit."
Stig Abell, a former managing editor of the Sun, said there would never be another editor like Mr Dacre.