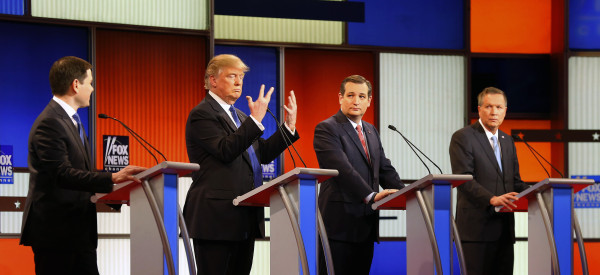 TOP STORIES


LAST NIGHT'S DEBATE DEVOLVED QUICKLY Between Donald Trump assuring America about the size of his hands to discussions about Little Marco, this was a debate for the crude insult history books. Ted Cruz and Marco Rubio did land some massive punches on the front-runner, with some help from the moderators, but it would appear to be too little, too late. [Jonathan Cohn, HuffPost]

POTENTIAL HOPE FOR MILLENNIALS IN THE JOBS REPORT "By at least two recent metrics, millennials in the 25-to-34 age range appear to be faring better on the employment front than at any other time during the economic recovery." [WSJ | Paywall]

THE OBAMAS AREN'T LEAVING WASHINGTON JUST YET The first family plans to stick around after 2017 so Sasha can finish up high school. [WaPo]

NORTH KOREAN DICTATOR ORDERS NUCLEAR WEAPONS TO BE READY AT ANY MOMENT "The North Korean leader, Kim Jong-un, has urged his military to have its nuclear warheads deployed and ready to be fired at any moment, the country's state-run news agency reported Friday." [NYT]

BOKO HARAM'S VIOLENCE CREATING MASSIVE SHORTAGE The terrorist group is now pillaging — for food. [NYT]

THE POWER IS OUT IN ALL OF SYRIA "The Syrian government reported a nationwide power outage Thursday — the latest electricity problem in a country that has seen frequent outages during a five-year war involving the regime, rebels and terror groups." [CNN]


WHAT'S BREWING


THE KEY TO SNAPCHAT According to its master, DJ Khaled. [Bloomberg]

THE BEDTIME TREATS GOOD FOR SLEEP You can snack away on these. [HuffPost]

IT TAKES A LOT OF MONEY TO CONQUER THE WORLD If you're Uber. [Vanity Fair]

HACKING UKRAINE'S POWER GRID Months of planning went into one of the biggest infrastructure hacks of all time. [Wired]

THE SECOND LIFE OF YOUR 'POST-BREAKUP OBJECTS' "Exiting a relationship leaves you with two kinds of junk: the things you can hold in your hands, and the things you can't." [Racked]

THINK YOU'LL FIND SOME PEACE EXPLORING THE BOTTOM OF THE OCEAN? Turns out it's rather noisy. [HuffPost]

For more from The Huffington Post, download our app for iOS or Android.

WHAT'S WORKING


'COSTCO GAVE ITS LOWEST PAID WORKERS A RAISE' "The big box store announced Thursday that it would raises minimum wages at its stores around the country by $1.50. The company's lowest hourly wages will be between $13 and $13.50 and hour, up from $11.50 to $12 an hour." [HuffPost]

For more, sign up for the What's Working newsletter.

BEFORE YOU GO


~ Motherboard's experiment in science fiction after the biggest earthquake to hit the continental U.S. is downright terrifying.

~ Mitt Romney's plan for the GOP convention, which last night's GOP debate seemed to throw a wrench in.

~ We're all about these wedding bars, and they don't even have any booze.

~ The Internet had some fun with these photos of Whole Foods selling peeled oranges.

~ The dangers of the military's aging helicopter fleet.

~ Just in time for Easter, the Cumberbunny.

~ Remember the Invisible Children movement? Turns out Joseph Kony is still on the loose.

~ The Atlantic examines the "changing definition of a fuller life."

~ Sony is trying to bury a Sasha Baron Cohen movie that contains a controversial scene about Donald Trump.

~ It's official: a "Mean Girls" the musical will happen.


Send tips/quips/quotes/stories/photos/events/scoops to Lauren Weber at lauren.weber@huffingtonpost.com. Follow us on Twitter @LaurenWeberHP. And like what you're reading? Sign up here to get The Morning Email delivered to you.
— This feed and its contents are the property of The Huffington Post, and use is subject to our terms. It may be used for personal consumption, but may not be distributed on a website.