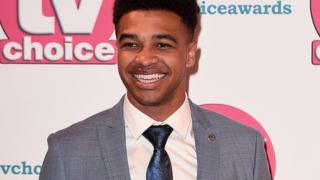 Emmerdale actor Asan N'Jie says he is "devastated" after being fired from the soap, following a clash with a Hollyoaks star at an award ceremony.
Asan swore and hurl punches at Jamie Lomas after the TV Choice Awards, held in London on Monday night.
"ITV executives have met with him this morning and as a consequence Asan's contract has been terminated with immediate effect, " says a spokeswoman.
Asan has played Ellis Chapman on the soap since September 2018.
"My behaviour at the TV Choice Awards was completely unacceptable, " the actor said in a statement.
"I sincerely apologise to everybody who has been affected especially Jamie Lomas, the whole Emmerdale team, our audience, ITV, my family, and the organisers of the Tv Choice Awards.
"I am devastated, accept full responsibility for my actions and I am determined to learn from this."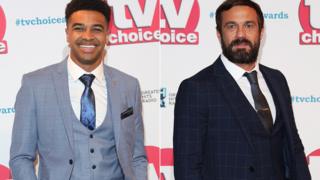 The Mirror claims Asan threatened to "knife" Jamie during the encounter and says the pair were pulled apart by security staff.
In August, Asan tweeted that he was "grateful for the opportunity flying my way" when his nomination for Best Newcomer was announced.
Asan was nominated as Best Soap Newcomer at the awards, but lost out to Kara-Leah Fernandes, who plays Bailey Baker in EastEnders.
Jamie, who has starred in Hollyoaks, EastEnders and Coronation Street and was an I'm a Celebrity finalist in 2017, wasn't nominated.
Neither actor has commented since the incident took place.
Emmerdale's knife-crime storyline
Asan was involved in a knife-crime storyline earlier this year in which his character, Ellis Chapman, was stabbed.
Earlier this year, he said he was "glad" Emmerdale was exploring the topic of knife-crime.
"In London, the knife crime rate is through the roof at the minute, " he told Digital Spy.
"So to explore a sensitive issue like this can only be a positive thing. If we set light onto these issues, hopefully the quicker it will stop."
Hollyoaks has told Newsbeat it will not be commenting on the incident.


Follow Newsbeat on Instagram, Facebook, Twitter and YouTube.
Listen to Newsbeat live at 12:45 and 17:45 weekdays – or listen back here.