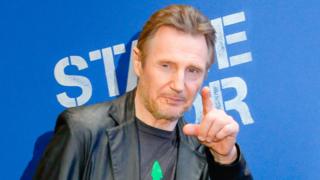 Fierce debate is raging over actor Liam Neeson's controversial admission that he once wanted to kill a random black man, with some indicating his unguarded commentaries amounted to "career suicide".
"The only question anyone in Hollywood will be asking for some time to come is 'Liam who? '" said one newspaper pundit.
Another called his statements "terrifying, sickening and really saddening".
Yet he has received support elsewhere, with one columnist suggesting he was "brave" to admit "a terrible thought".
Neeson in racism blizzard over 'kill' plan
I'm not racist, says Liam Neeson
Neeson event cancelled amid race row
Media caption
Listen to Liam Neeson's comments that sparked the outrage
Read the full article
Image caption
Read the full article
Media caption
John Barnes: Liam Neeson 'deserves a medal'
Read the full article
Image caption
Read the full article
Media caption
The Independent journalist Clemence Michallon: "The gravity of his thoughts hit me"