One of my favorite things to do on my TV show and podcast, The Dinner Party with Elysabeth Alfano, is to invite people who don't know each other and who seemingly have nothing in common to sit down to dinner together. What do New York Times best-selling author, screen, TV and comic book writer, Gregg Hurwitz, and fitness icon Denise Austin have in common? As you'll find out in the podcast below, more than you would think! Over food from Cavatina Restaurant from the dreamy Sunset Marquis in Los Angeles, Gregg, Denise and I dish on the art of discipline, becoming great at what you do, Gregg's new thriller Orphan X (already sold as a movie to be featuring Bradley Cooper), Denise's new 360° Workout Plan, and so much more. As you'll hear, food can bring strangers together and the best conversations really do happen over dinner.

Enjoy this podcast on WGN Radio Plus and, for more information about Greg Hurwitz and Denise Austin, see below.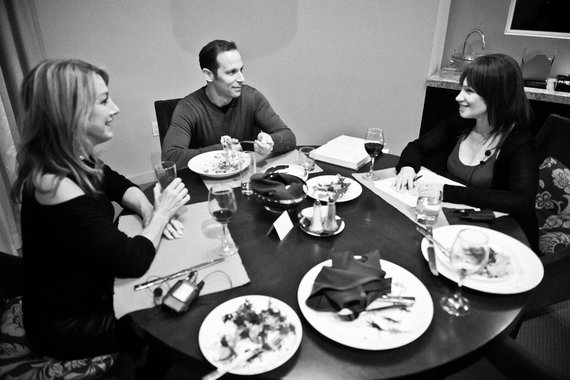 Photo credit: Braden Moran Photography


Greg Hurwitz is the author of The Tower, Minutes to Burn, Do No Harm, The Kill Clause, The Program, Troubleshooter, Last Shot, The Crime Writer, Trust No One, Don't Look Back, The Survivor and the now out Orphan X. His books have been shortlisted for best novel of the year by the International Thriller Writers, nominated for the CWA Ian Fleming Steel Dagger, chosen as feature selections for all four major literary book clubs, honored as Book Sense Picks, and translated into twenty-six languages.

He has written screenplays for Jerry Bruckheimer Films, Paramount Studios, MGM, and ESPN, developed television series for Warner Bros. and Lakeshore, and written Wolverine, Punisher, and Foolkiller comic books for Marvel Comics. He became the writer of Batman: The Dark Knight for DC Comics in 2012.

In the scholastic realm, Gregg has published numerous academic articles on Shakespeare. He has taught fiction writing in the USC English Department, and guest lectured for UCLA, and Harvard. In the course of researching his thrillers, Gregg snuck onto demolition ranges with Navy SEALs, swam with sharks in the Galápagos Islands, and went undercover into mind-control cults. His current projects as both writer and co-producer include the upcoming 2016 film The Book of Henry, with Naomi Watts , and a TV series with Keanu Reeves to be directed by Roland Emmerich. The rights to his most recent novel Orphan X were bought before the book was even available to the public. Bradley Cooper will star in the film, with Gregg as the screenwriter.

Denise Austin is a fitness icon. She is a fitness instructor, author, columnist, TV personality and former member of the President's Council on Physical Fitness and Sports. Denise has sold more than 24 million exercise videos and DVDs, authored 12 books on fitness and starred in the longest running fitness show in the history of television. As you will hear in the podcast, it is no wonder that Denise's trademark up-beat and positive outlook, and can-do attitude have endeared her to millions of fans all over the globe, earning her the reputation as "America's favorite fitness expert."

During more than 30 years of promoting health and fitness, Denise has created 100 workout videos. Her enormous number of sales led to her 2003 induction into the Video Hall of Fame. Her latest workout DVDs include Burn Fat Walk, Shrink Your Belly Fat, Fit in a Flash, and Shrink Your 5 Fat Zones.

On television, Denise has created a loyal audience with her two major television shows: Getting Fit, which ran for 10 years on ESPN and continued on under the new name Denise Austin's Daily Workout when it moved to the Lifetime Television Network. Denise appeared in Daily Workout and a second show, Fit & Lite, for 14 years on Lifetime.

Her best selling book, Side Effect: SKINNY has recently been published for a second time. Her very popular health and fitness plan, entitled, Denise Austin's 10 Week, 360° Plan, encompassing workout videos, meal plans, exercises, motivational videos and a social-group fitness goals is available on her website.
— This feed and its contents are the property of The Huffington Post, and use is subject to our terms. It may be used for personal consumption, but may not be distributed on a website.