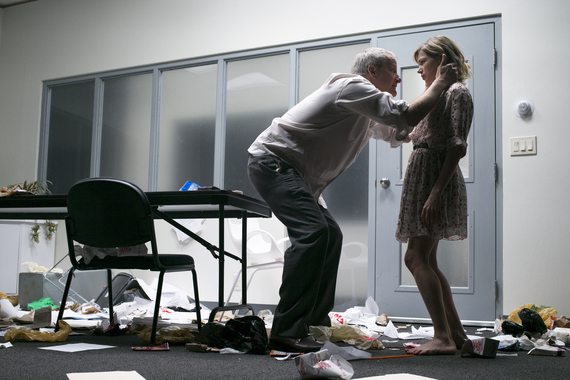 Jeff Daniels and Michelle Williams in David Harrower's Blackbird.
Photo: Brigitte Lacombe
High-octane, provocative, brutally-lacerating drama is back on Broadway with David Harrower's Blackbird. Jeff Daniels and Michelle Williams give frenzied, uncompromising performances as a pair of irremediably-ruined souls frozen by a bubbling mix of guilt, retribution, revenge and what seem to be dangerous crosscurrents of desire.

The pair–a middle-aged man turning dumpy, a vibrant woman half his age–rush into a rubbish-strewn break room at a sleekly cold corporate headquarters. One is visibly shaking, confronted by an onrushing ghost of the past; the other's demeanor borders on vicious. One warily eyes the surroundings, keeping the door ajar (as if that's going to make anybody safe); the other slides by, repeatedly, pointedly nudging that door closed. They circle the table, one stalking the other like a cat having cornered its prey. After several minutes of conversation, we understand the enormity of the situation. Fifteen years earlier, the then-forty-year old Ray had an extended affair with twelve-year-old Una, and here they are facing off across the refuse-strewn lunch table.

Playwright Harrower switches tables on us, though, starting with an unsettling question: which one is the victim? The twelve-year-old was clearly the victim, of course; there's no question about that; neither Ray, Una, Harrower or director Joe Mantello suggest otherwise. But Ray is clearly haunted by, and petrified of, Una; and she is clearly gunning for this man who irremediably destroyed any hope of a normal life. (He did his time in jail, yes; but Harrower implies that Una is still and will always be serving her sentence.) The affair destroyed them both, for life; and, as the 80-minute play rushes by, the playwright suggests that there is nevertheless an unbreakable bond between them.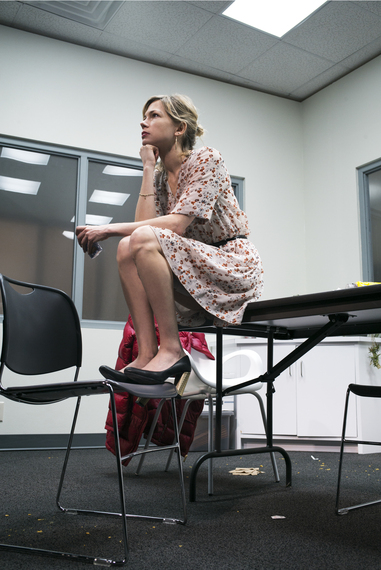 Michelle Williams in David Harrower's Blackbird.
Photo: Brigitte Lacombe
This is a controversial view, yes; and it's hard to say how Una's clearly-defined sense of guilt would strike abuse survivors. Dramatically, though, it is a dynamite play in a dynamite production with dynamite performances.

The new production at the Belasco is New York's second go-round with the play. Blackbird was first staged in 2005 at the Edinburgh Festival (playwright Harrower is Scottish). The play quickly moved to London, where it was mounted at the Albery–taking that season's Olivier Award for Best New Play over such competition as Peter Morgan's Frost/Nixon , Tom Stoppard's Rock 'n' Roll and Conor McPherson's The Seafarer. Joe Mantello staged it in 2007 at Manhattan Theatre Club, with Mr. Daniels and Alison Pill in the roles. That production was well-received, but did not transfer.

For the new production, Mantello reunites with Daniels (and retains set designer Scott Pask, whose steely cool set well suites the play). A decade later, Daniels appears to have more power; or more weakness, one might say. Ray is a weakened shell of a man, cowering from Una but unable to avert his eyes; hunted, but fascinated by the hunter. Williams gives what must be a very different performance than Ms. Pill, and not only due to their respective ages. (While they are relatively close in age, Pill did the role in her mid-twenties while Williams is now in her mid-thirties.) Williams makes a powerful and controlling Una, albeit with stretches where the playwright and director have her revert to the 12-year-old she was.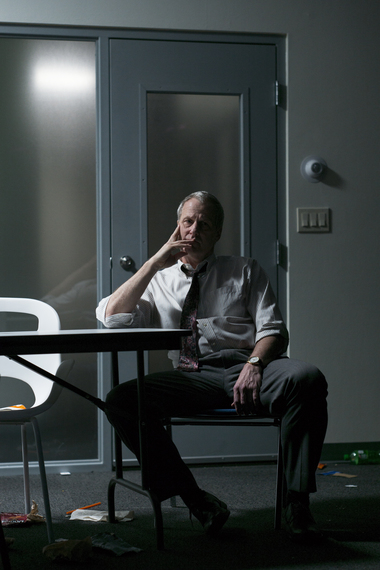 Jeff Daniels in David Harrower's Blackbird.
Photo: Brigitte Lacombe
Blackbird leaves us feeling unsettled, which seems clearly the intention. The playwright also leaves us questioning just how much of what we see is real; there are suggestions that this encounter, or parts of this encounter, are not real. In any case, Harrower–and Daniels & Williams, and Blackbird–leaves us questioning and thinking.
.
David Harrower's Blackbird opened March 10, 2016 and continues through June 11 at the Belasco Theatre
— This feed and its contents are the property of The Huffington Post, and use is subject to our terms. It may be used for personal consumption, but may not be distributed on a website.